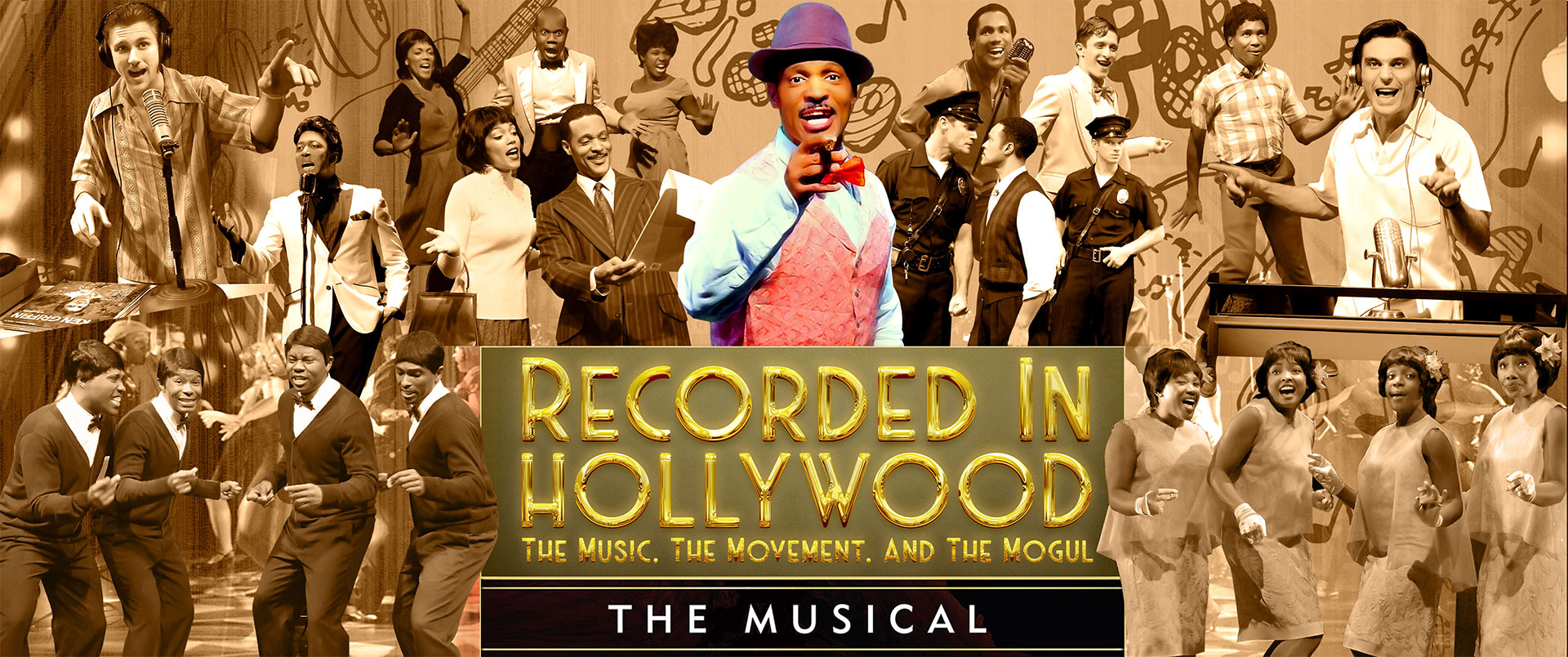 ...ONE OF THE BEST MUSIC SHOWS
Recorded In Hollywood: The Musical
RECORDED IN HOLLYWOOD The Musical – returned from its sold-out, critically acclaimed, 2015 premier, with additional songs and scenes in an all-new production. This LA Times Critics pick tells the true and fascinating love, life and times of 1950's Los Angeles entrepreneur and activist John Dolphin – the trailblazing black businessman who made his mark on the national music scene long before Motown ever existed. Dolphin opened Dolphin's Of Hollywood Record Shop on legendary Central Avenue in 1948 and, along with his regular radio broadcasts and four record labels, launched and helped to build, the careers of some of the biggest names in music. Facing police opposition, the shop and its broadcasts were a gathering place for music lovers from every race and background and became "the place to be" in LA in the 50's. Dolphin played a real role in integrating the Los Angeles music scene and helped bring R&B into the mainstream for all time. Based on the book The John Dolphin Story by Jamelle Dolphin, RECORDED IN HOLLYWOOD features 15 new songs and 8 hits from the Rhythm and Blues and early Rock and Roll era.
Lovin John Dolphin, a minimogul who had almost every facet of the record business covered, had taken Los Angeles by storm and brought people of all colors together through music. Dolphin named his record shop Dolphin's of Hollywood, this was his way of bringing Hollywood to blacks, a record store on Central Avenue, the music mecca of the west coast, that would stay open 24 hours a day to cater to the late-shift workforce. The store featured deejays like Huggy Boy and Hunter Hancock broadcasting live on the radio station KRKD, in front of the huge glass window Mr. Dolphin had installed on the face of the store so that people on the outside could see in. Some of the most popular deejays found a home for their art in front of this window, playing for late night crowds of Blacks, White and Latinos, who would dance and party together well after dark, until the cops came and shut the parties down.
Recorded In Hollywood: The John Dolphin Story
Learn about the legendary John Dophin, an independent record label owner and music producer that Los Angeles by storm in the 1940s & 50s. John Dolphin was the epitome of a record businessman, a big man with a big cigar, and big talk. A mini-mogul he would have nearly every facet of the record business covered.
His record shop Dolphin's of Hollywood became the most famous record shop in America and the Dolphin's of Hollywood radio show one of the most popular radio shows.
Read and discover his contributions goes beyond music, his record shop and radio show would bring together all races during a time of segregation, his protest against LAPD harassment of black business. An incredible never told story of John Dolphin's life journey to the day of his murder in 1958. A great tale of American history, African American history, Music history, and Los Angeles history all in this one story.
"A wonderful walk down memory lane this book is…"
BUY BOOK